Introduction
SynThesis is a content creation tool developed by Jonathan Leger from Prosperative that uses AI (Artificial Intelligence) to create high quality unique articles at the push of a button. I'm a big fan of Jon's software programs and already owned several of his products before purchasing SynThesis. All articles are always 100% unique and pass Copyscape, you can run a Copyscape test if you wish, it's built right into the software.
Why artificial intelligence?
Think of Artificial Intelligence as a part of computer science that uses technology capable of performing tasks that typically require human intelligence.
AI is a science that uses the latest advancements in machine learning to simulate human intelligence and is increasingly used in all manner of tech industries to carry out many diverse tasks. In our case, SynThesis uses AI to access huge amounts of data and create quality content on virtually any topic.
My review of SynThesis
I decided to share my experience with SynThesis because I was totally impressed with the results I got and the potential to save hours of time creating new content for blogs, websites, social media or articles for any purpose. I'd like to bet anyone reading this has experienced the daunting prospect of a blank white screen and the blinking cursor! This software tool immediately puts an end to that and saves hours of frustration, not to mention time.
Overview of creating an article
It is so simple to use so I can demonstrate how I created a 750 word article in a few minutes with just three images.
First, I just typed in a keyword phrase related to one of my niches, in this case 'treat underactive thyroid' and added one sub keyword. You can add up to five to fine tune to get more specific results.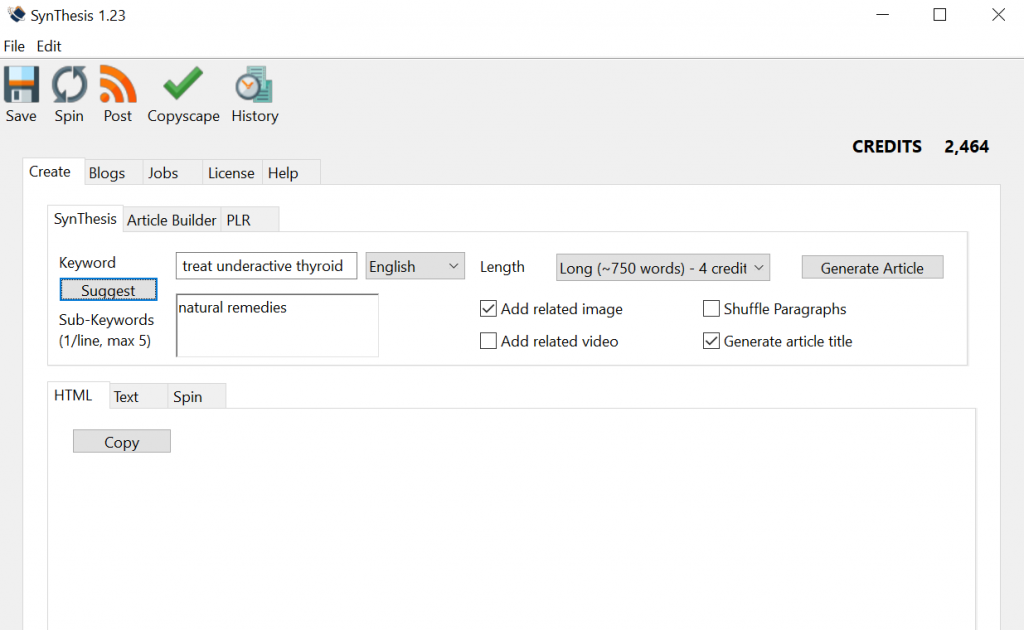 As you can see in the next image, if you need more ideas you can use the keyword suggest tab to display additional related keyword phrases. You can also have the software automatically add an associated image or video and generate a title.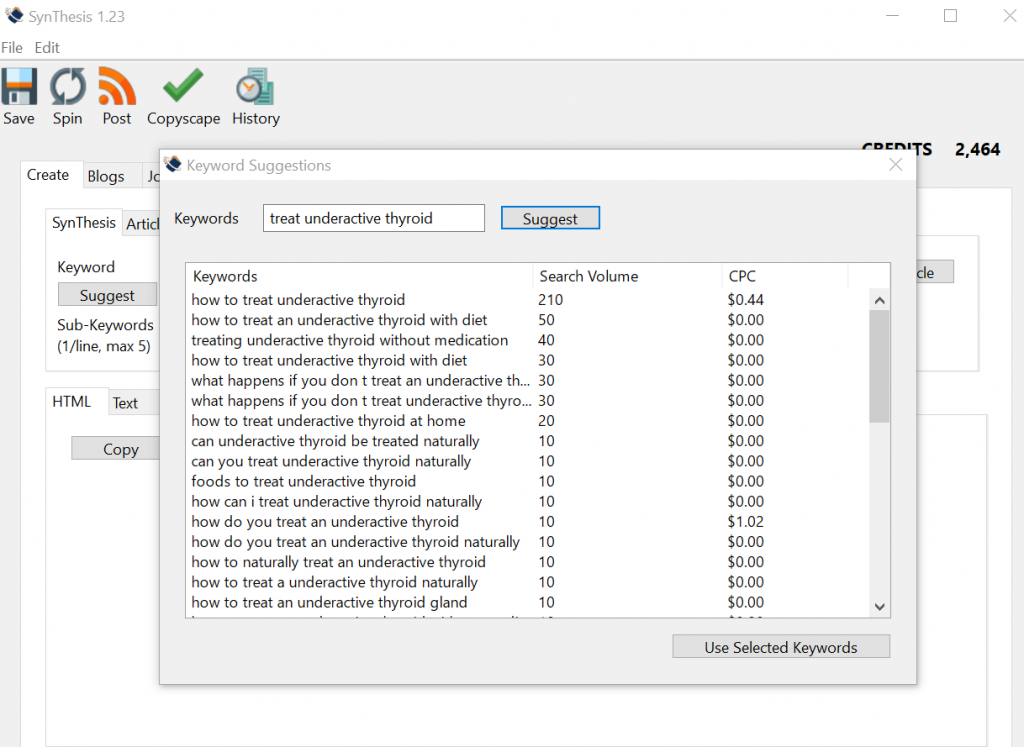 Once you're ready hit the 'Generate Article' button and within a few minutes your article is created. You can then save it and post straight to your blog to be published immediately, or as a draft so you can make any edits before publishing. You can see part of the article in the image below. You can save your articles as text or html and store them on your device.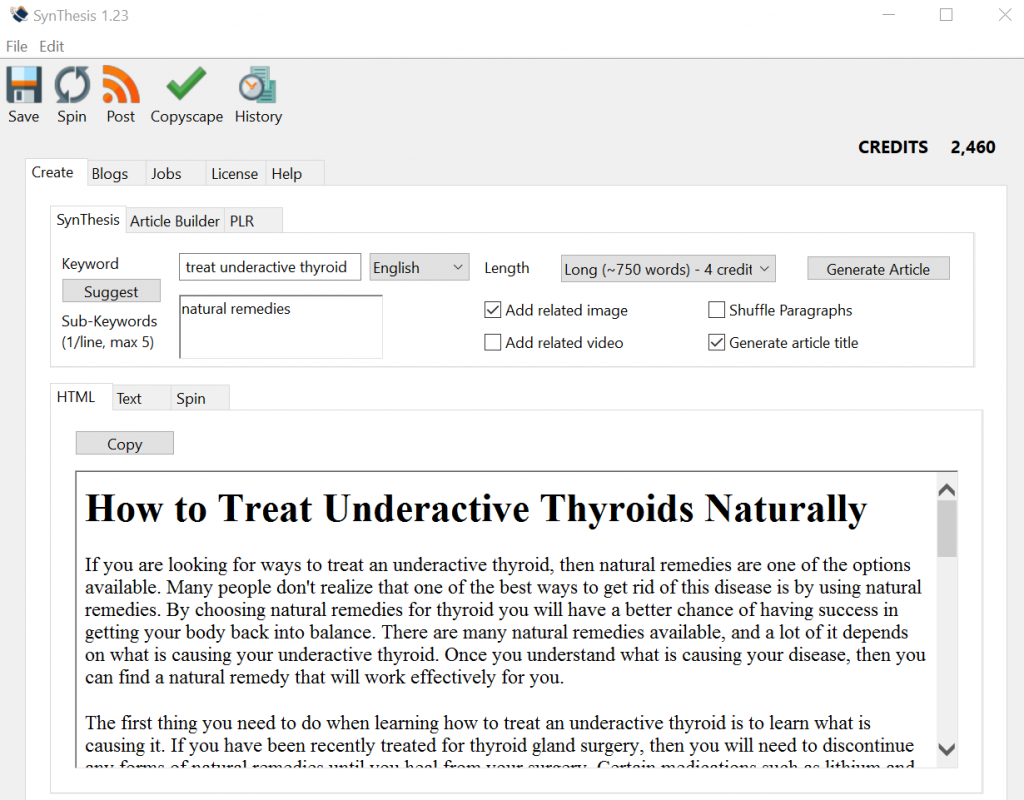 The SynThesis content creation tool downloads quickly to your device, works on Mac and Windows and uses a very simple interface to carry out tasks. It also includes other useful features to enhance the potential results.
connect with your blogs and automatically post right from SynThesis
you can also create content using the Article Builder tab, another one of Jon's programs
or use the PLR tab to access over 130,000 PLR articles
you can 'spin' content you have created just by clicking a button
scheduling tool so you can create and schedule unique content to post to your blogs on autopilot
Bottom line is that creating and publishing quality unique content on a regular basis is the way to get rankings in Google, and with Synthesis you can easily set up the creation and posting of content to as many blogs as you wish!
Conclusion and my final thoughts…..
Having used many different content creation tools I have found that SynThesis is extremely simple to use and produces remarkably good content. Combined with the ability to automate posting it's a godsend.
Any negatives? It's hard to find any issues using this tool. The only thing I would say is that perhaps with more obscure niches the result may not be perfect, but lets be honest, it's a lot easier to edit an already created article than starting from scratch! In most popular niches it works perfectly!
I definitely wholeheartedly recommend SynThesis. Click the link below to get your copy and start generating all the content you could ever want in your niche.
Note: This is my genuine review after using the product, please be aware that we may be paid a commission if you purchase via our link but you will not pay any more for the product. See affiliate disclosure page